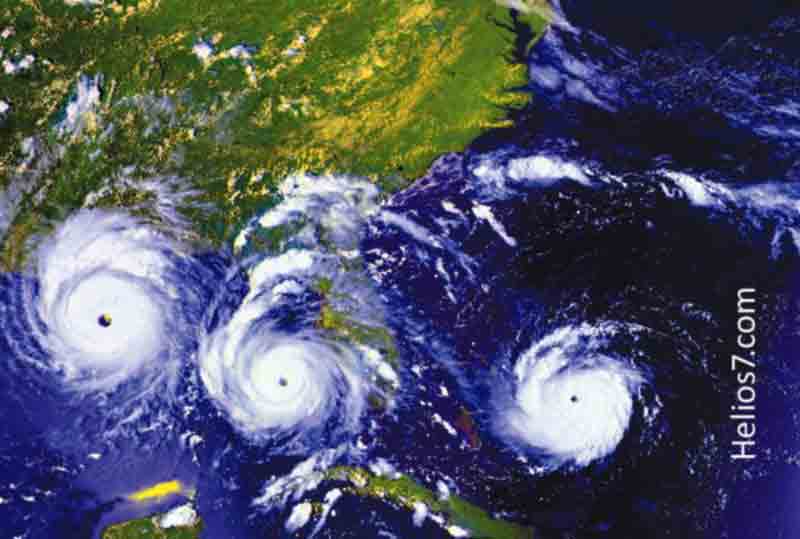 While Harvey devasted the US, there are three major hurricanes which are still active. These are Irma, Katia and Jose.
While Helios7 was covering News of the Irma, a Major Earthquake has stricken Mexico with the magnitude of 8.2, and there are chances of Tsunami hitting the Mexico. This earthquake has already left 61 dead and more than 200 injured in the Mexico alone as on  9-9-2017 (reported at 1:02 PM Indian IST Time) .
As Irma continues her devastating journey through the Caribbean islands to Florida, two other tropical storms have reached the category of hurricane and meteorologists are following them closely.
According to the National Hurricane Center of the United States (NHC, its acronym in English), Jose became active few hours ago hurricane in the Atlantic, east of where Irma is active at the moment.
To the west of Irma, in waters of the Gulf of Mexico, the storm Katia also reached the category of the hurricane and in the state of Veracruz the authorities already put on notice to the population.
All this, less than two weeks after Hurricane Harvey arrived in Category 4 United States territory causing an extensive damages to the property and loss of human life in the state of Texas.
It is a very active and damaging hurricane season, like that of 2005, in which hurricanes Katrina and Wilma occurred, two of the most havoc they have caused in history.
The question that many scientists are asking TODAY is whether theSE 4 Hurricanes in a row along with a 8.0 Earthquake and dangers of tsunami hitting mexico – IS this all normal?
Recent Hurricane/Earthquakes and the Haarp Controversy
As per the documentary published by History TV a few months back, it showed how HAARP Technology could alter weather, triggering massive rain storms, earthquakes, and droughts.
Watch Video Below